A word that has come round again and again.
It seems to be the theme of my life. God brings things to me again and again before I recognize it is Him that is calling. He is offering opportunities to serve Him, to know Him, to love Him more.
It happened with adoption. For more than 4 years He has brought it round and finally we listened. Coming to Malakoff was much the same. Oh, how much He loves us to confirm things again and again.
So I am learning to recognize it now...that coming round. Those things that He brings to the top again and again.
That leaves me here with this word...gratitude. For months now I have read about it
here
(a blog that is worth your time...it inspires me, challenges me, and ultimately gives me the desire to sit at His feet). I have even started trying to keep track of it. Then yesterday the sweet man of God I married spoke the word again. Three times in Colossi ans 3:15-17 the Word speaks of thankfulness.
No, I don't believe in coincidences. It is Him, the Spirit drawing me, reminding me that the attitude of thankfulness will change my heart, will transform my life.
It is the start of a New Year and I am choosing to make thankfulness a priority. To make gratitude a habit for every day, every moment.
I have started a journal.
My goal is to get to 1,000 and then just keep going.
I will link up on Mondays and share a few. How fitting to start our New Year and each new week with this attitude of gratitude.
Would you like to join me?
Click
here
and read more.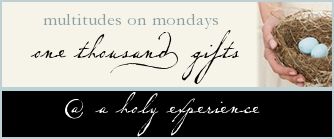 0023. breakfast for dinner
0024. sweet little boys excited about snow
0025. His word coming to life as I read it in order
0026. a warm bath with a good book
0027. phone calls from my man in the middle of the day
0028. the sound of a baby boy waking with squeals of delight
0029. Kaden reciting the books of the bible
0030. the anticipation of time with girl friends at the end of the week