I cannot begin to express the blessing that reading this blog,
a holy experience
, has been to me in the last few months. Ann's writing is so honest, so genuine, and yet so challenging. I find myself drawn to the feet of Jesus every time I visit her blog with it's quite background and soothing music.
This gratitude journey that she has introduced into my life has already begun to change my heart, my attitude, my family. I am so grateful for this counting of all of His blessings.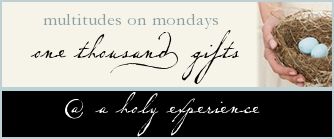 0057. laughing with sweet girlfriends
0058. watching a life be transformed...God is doing great things in you Cassie!
0059. a preacher who preaches the WORD and not just want we want to hear
0060. that preacher is my husband
0061. we are His workmanship created to do His good works
0062. a husband who is willing to travel across the world to tell others about Jesus and encourage and refresh the hearts of missionaries
0063. a little boy's excitement over his first lose tooth and learning to tie his shoes.
0064. His promise that His word will not return void
So many things to be thankful for on this rainy Monday!