I have always heard that statement but now I know that it is true! My sweet husband has been in India, Nepal, and Thailand this last week. I am so proud of my man and his willingness to follow our Lord to the other side of the world. I am proud to call him mine and honored to be the wife of this Jesus lover!
But, man have I missed him! This trip has been different than others that he has gone on in the past because I have not been able to talk to him much. I have realized this week how much I miss his phones calls in the middle of the day just to "hey". I miss talking with him at the end of the day when we tell each other what "really" happened in our day. I miss his smile and his laugh and the way he hugs me at just the right moments.
I am so thankful that I am my beloveds and that he is mine!
Going through this over this last little while has really made me think about all of the families that have husbands or wives who are deployed. I know that there are so many time when I have not taken the time that I need to to pray for those families as they are struggling through their time apart.
So along with my Monday counting of blessings I will also use Mondays to pray for families who are separated around the world. I will be praying for their strength, and peace. I will be praying for the safety of the loved one who is away. I will be praying that those who are left behind would be surrounded by others who are willing to help them and encourage them as they wait to be reunited as a family again.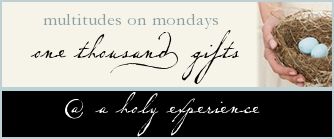 0103. the opportunity to watch our parents love on our boys.
0104. precious phone calls from a husband I am missing desperately!
0105. a little sister who is also my friend!
0106. Nathan's opportunities to share his faith
0107. bed time stories with papaw
0108. sweet girlfriends who pray for me in times of need
0109. handmade cards from a tender-hearted little boy
0110. that God chooses to work through us...amazing!